Visiting Hours
Day of the Week
Hours
Monday

07:00

-

10:00

Tuesday

07:00

-

10:00

Wednesday

07:00

-

10:00

Thursday

07:00

-

10:00

Friday

07:00

-

10:00

Saturday

07:00

-

10:00

Sunday

07:00

-

10:00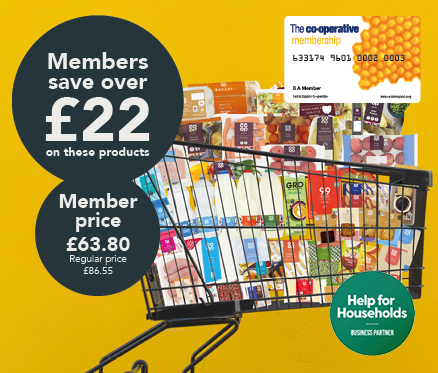 Become a Member
Join as a member today to get exclusive offers and access to special events and classes. You'll also be able to apply for funding for your local community groups. Together we can make a difference to more people in Doncaster.
Exclusive Member prices

We've just launched new and exclusive member offers available in-store now! Head down to your local Co-op to save over £22 on your weekly shop.

If you're not a member already, you can join us here:

Halloween

It's that spooktacular time of year again, and to make your Halloween as ghoulishly good as can be, we're sharing some freakishly fun activities with you…

Our Malawi Partnership

We've launched an innovative Co-operative International Trading Development Fund to help move global communities out of poverty.

Green delivery in an hour

When you can't visit your local store, we'll pack your shopping into our electric vehicles and bring it to you. Place your order through the Snappy Shopper app and our colleagues will be with you within the hour.

Our latest offers

Get more for your money with our latest deals. With exciting new offers every week, it's easy to live well for less.

We're recruiting

We're always looking for enthusiastic and committed people to help us build a sustainable Society for all. If you're set on making a positive impact while making progress in your career, we'd love to chat.

Refresh your menu

Try some of our recipes, designed to make it a little easier to eat with the seasons. You'll not only be using ingredients at their freshest and most nutritious, you'll cut down on food miles too.
Frequently Asked Questions